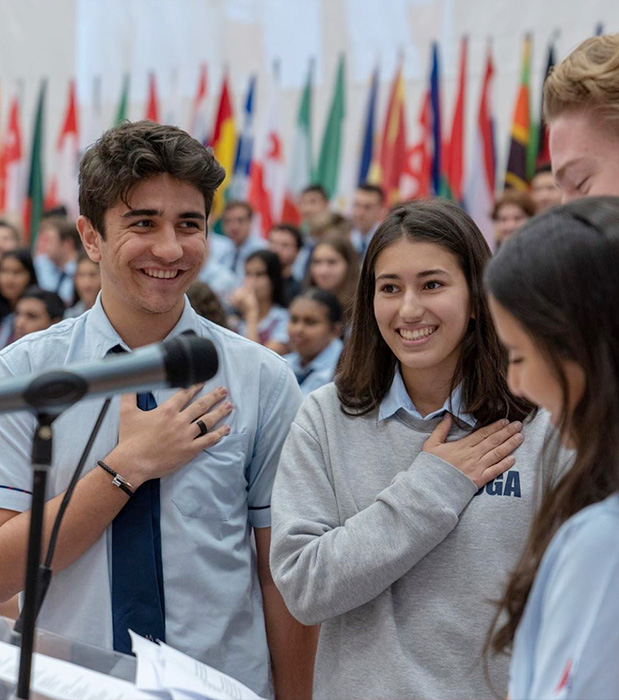 Student Leadership
Students have many opportunities to develop their leadership skills at Dubai American Academy and beyond. Ambassadors, Student Council members and the Innovation Team of students welcome new members to our community, take part in sustainability initiatives and sharing their knowledge through coding labs and workshops.
The Middle School Student Council is dedicated to providing leadership opportunities for students, providing services to the school and community, and making the lives of students more enjoyable. Students selected for the Student Council are assigned roles and responsibilities which develop their sense of responsibility and confidence. The Middle School Ambassadors help to welcome new students into the Middle School while developing their own leadership skills. Throughout the year the Ambassadors lead other Middle School students in community building activities. They lead transitional activities for the incoming Grade 6 classes as well as being buddied up with new students entering DAA throughout the year to help ensure a smooth transition.
There are many leadership opportunities in the highschool with student-led clubs and activities as part of CAS such as Model United Nations, TEDx and student organizations. The high school student government serves as a link between students and teachers, organizes social activities, and assists the greater school community in various events and activities throughout the year. Student government members are leaders who demonstrate the qualities of exceptional and successful students. The Co-presidents of the Student Government also serve on the DAA's Local Advisory Board.
Student Spotlight
My name is Mert, and I am from Turkey and I have been in DAA since 4th grade, so this is my 9th year.

Mert Saygi

President, Student Government Association

My name is Sofia and I am Spanish Indian, and have been at DAA since KG1, making this is my 14th year here.

Sofia Ladak Fernandez

President, Student Government Association
We are both seniors in the graduating class of 2020, and are planning to pursue engineering and law respectively in the US next year. We are the Co-Presidents of the Student Government Association (SGA) in the high school. We have been involved in SGA since freshman year, and were motivated to take on this presidency role because we wanted to commit to fostering spirit within the student body and bringing the community together. Since we are familiar with so many of DAA's traditions, we wanted to have a first hand role in making these events the best possible. This is the main objective of SGA, and we apply this to all of our events that happen throughout the year. Within planning for them, we try our best to incorporate ideas from the whole student body by having a large team that ranges across all 4 grades. One of our proudest accomplishments as presidents, is this year's Thanksgiving event, as everything went very smoothly and it was a beautiful event honoring our support staff. Everybody was very touched, and we are grateful for that. We are also excited to get started in planning new traditions that we hope to establish at DAA, leaving our mark for years to come.